Hooper Corporation has continued to build a reputation of excellence since its founding in 1913. Today, Hooper Corporation's reach extends beyond its founding city and corporate headquarters of Madison, Wisconsin, to the continental U.S. and Canada. Hooper Corporation is dedicated to meeting customer needs every step of the way, regardless of the size or complexity of the projects.
It's not a revolutionary way to do business – it's just the right way.
Hooper's dedication to our core values keep us true to the founding principles we were founded upon and propels us forward with each and every client and project we work with.
Hooper Corporation has over a century of excellence in specialized construction services and design. Our foundation in 1913 as a heating and piping contractor has expanded into our diversified Mechanical and Electric Power Divisions of today. The principle of forming strong client partnerships in our industries has made us an innovative leader in mechanical and electric power construction while expanding our services to meet customer needs.
We have grown steadily since 1913 while expanding our capabilities, and now serve customers throughout the continental U.S. and Canada. The guiding principles on which we built our business are as fundamentally strong today as they were when the company began. We serve our customers with the highest professional, technical, and ethical standards; provide continued opportunities for personal growth and advancement for our employees; and commit resources to the enhancement of the communities in which we live and work.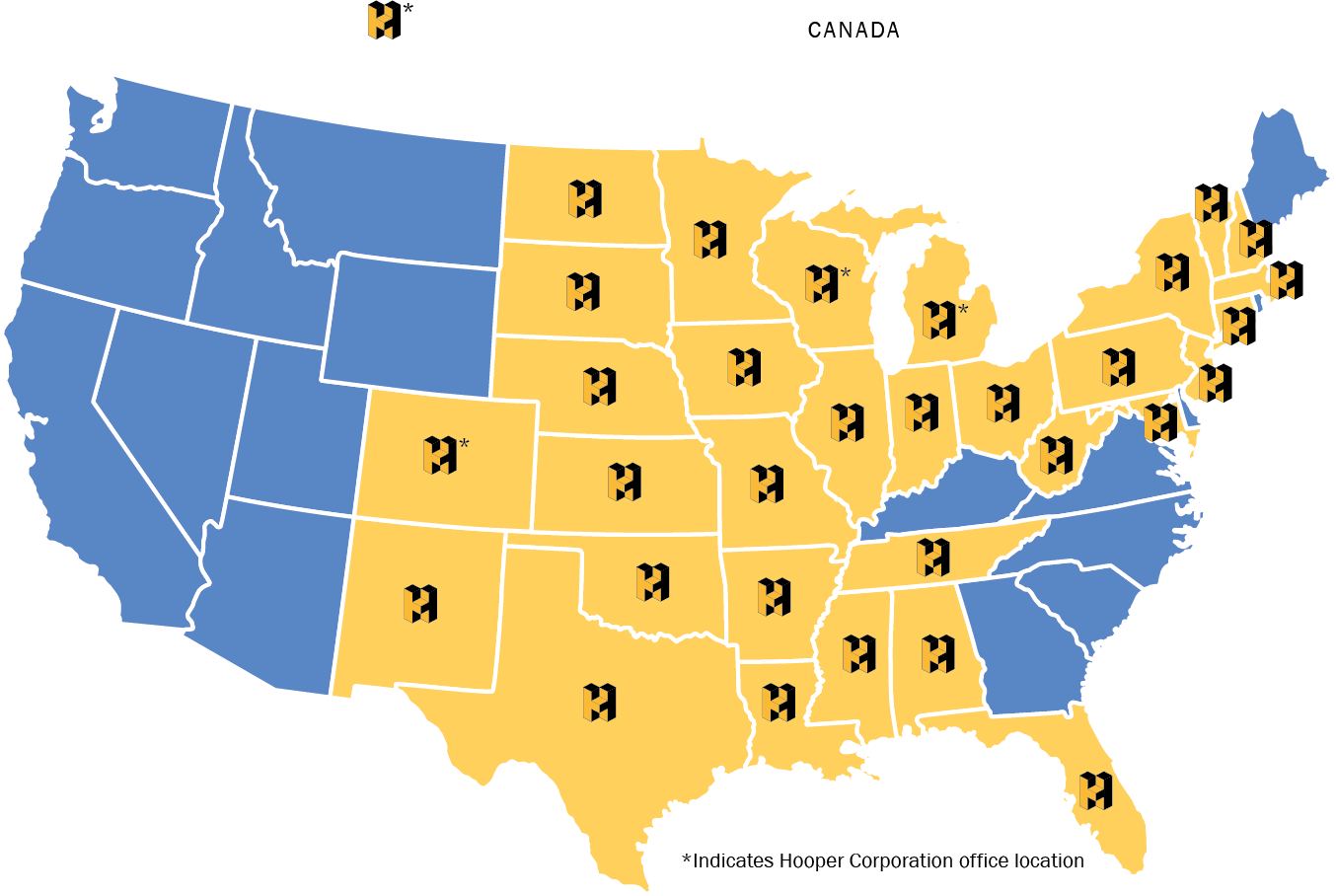 As a privately owned company with no outside shareholders, we take pride in our growth and succession over our multiple generations of hands-on professional owner-operators. We are multi-disciplined, with owners managing their respective business units. Our guiding principles have held strong throughout time and have been proven time and time again.
We are dedicated to meeting customers' needs, no matter how large or complex their projects, and we are committed to making your vision a reality. Our employees are top-rated in design, engineering, project management, and business skills. We pride ourselves on the continued education our employees pursue to remain at the top of their game throughout employment.
Hooper's corporate location in Madison, Wisconsin, has influenced our active participation in our ever growing community and business territory. Community involvement is at the core of our values as we seek to give back to the communities in which we live and work. The Hooper Foundation was established to ensure we support our communities through financial contributions to local chapters of national and international organizations and nonprofits.
Hooper's pursuit of excellence has won us numerous awards and recognition. We are actively involved in the advancement of Building Information Modeling (BIM), Leadership in Energy and Environmental Design (LEED), and Lean Construction. It is our goal to remain ahead of the curve in construction technology and methods.
Holding safety as our number one priority, Hooper has developed one of the best safety models in the industry. Our Safety Department is highly regarded throughout the nation, and our team continuously works to improve upon our already high expectations set for the field and office. Development of computerized training has significantly impacted our company and has allowed our Safety Department to flourish.
With more than 100 years under our belt, Hooper Corporation is proud to be looking ahead to the next 100 years.