Pipe Fabrication Facilities
Our steamfitting fabrication facility is 16,000 square feet, the area's largest. Union steamfitters use standard and advanced welding technology that includes:
Gas Tungsten Arc Welding (GTAW)
Gas Metal Arc Welding (GMAW)
Shielded Metal Arc Welding (SMAW)
Copper and VAV Box Prefabrication
Aquatherm HDPE
We have access to over 95 qualified welding procedures through our membership with the National Certified Welding Bureau, enabling us to fabricate pipe with a wide variety of materials. Our shop carries four stamps in compliance with A.S.M.E. code for work on pressurized vessels. Utilizing state of the art materials and equipment, the pipe fabrication shop improves our efficiency and productivity on projects of all sizes.
The combined capacity of our fabrication shops, coupled with our experienced labor force, give us a productivity edge in this market. We continuously investigate, explore, and develop new approaches, applications, and techniques that result in cost-savings, improved efficiency, and enhanced aesthetics.
Sheet Metal Fabrication Facilities
Our pipe fabrication facility is complemented by our subsidiary's sheet metal fabrication shop, which is an 18,000 square foot climate controlled work space.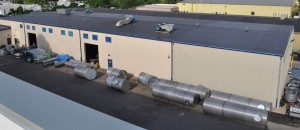 Our shop is the largest in the area, giving us additional capacity to produce more of our own ductwork where we control the quality. Our shop strictly adheres to SMACNA (Sheet Metal and Air Conditioning Contractors National Association) construction standards, which ensures that the owner will receive a quality sheet metal installation. Our prefabrication procedures go the extra mile to ensure tight duct construction and expedited job site installation. Ducts are leak tested before they leave our shop to prevent air leakage and to decrease power requirements to move air through our ducts.
Our fabrication shop includes the following pieces of equipment, and we are continuously searching for new equipment, tools and approaches that help reduce cost, improve efficiency, and support our quest for design innovation:
Plasma duct automated duct-cutting machines (2)
TDC roll formed duct flange machine
Spiral round duct fabrication machine
Automated corner connector system
Fully automated 6 foot wide coil line
Ovalizer to stretch spiral pipe in to flat oval duct