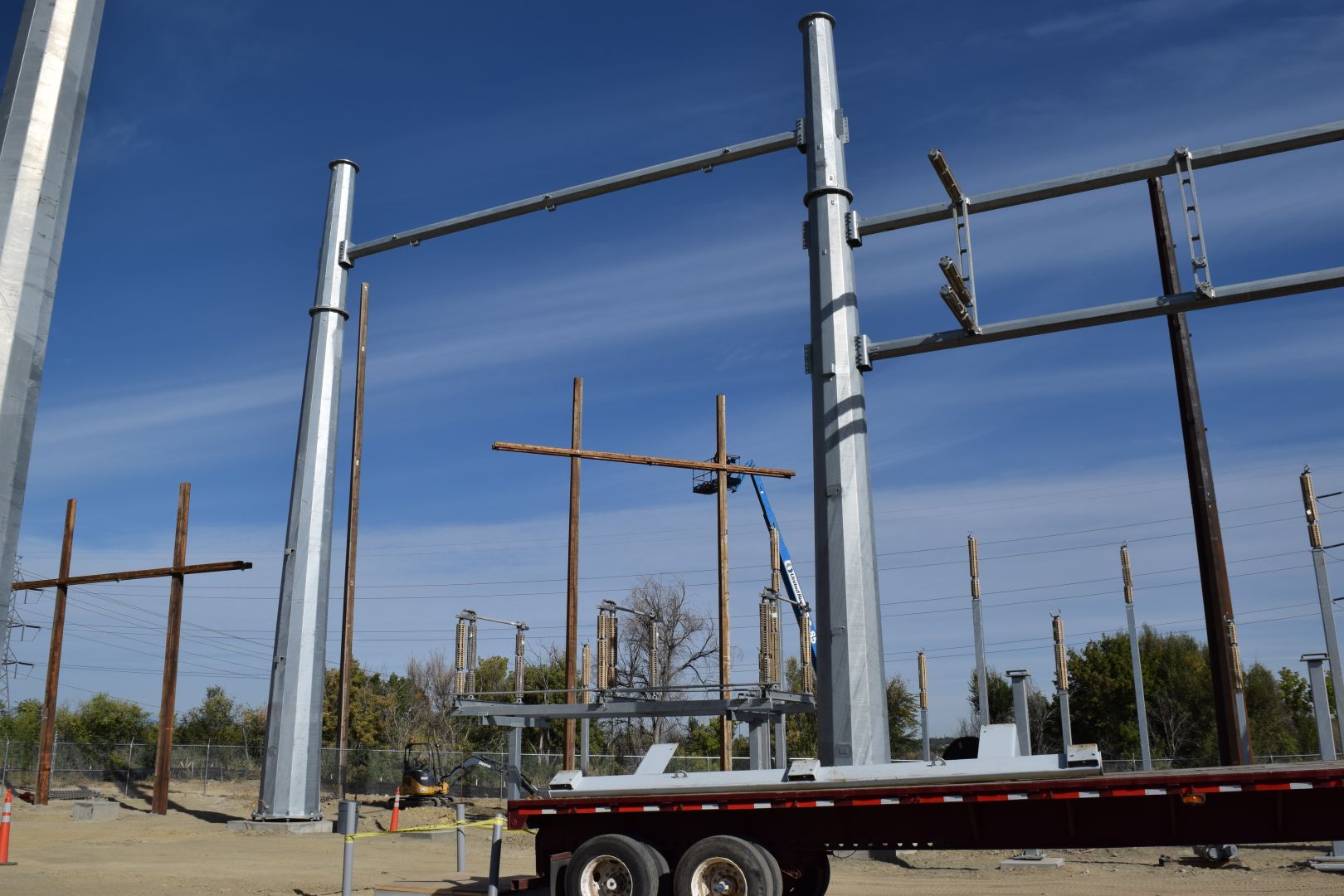 Initially, the scope of this project was to upgrade the existing 115 kV – 13.8 kV Bank #2 transformer with a new 230 kV – 13.8 kV transformer and to replace the existing 115 kV portion of the substation with new 230 kV equipment.
This included the demolition of the existing 115 kV portion of the substation as well as the installation of the steel structures, switches, live tank circuit breakers, line rupters, capacitor voltage transformers (CCVTs), surge arresters, bus, and conductors associated with the new 230 kV portion of the substation.
Crews were also tasked with installing new 1000 MCM, 15 kV power cable between the new Bank #2 transformer and the existing 13.8 kV portion of the substation.
After the project was awarded, the scope of the work expanded to include the below grade conduit installation. It was also determined that due to the high distribution loads in the area; the substation could not be run off of just one of the existing transformers.
So, we had to build a 230 kV fly line around the back side of the substation and install Xcel's critical response transformer (CRT) so that we could keep two transformers feeding the distribution system to service the loads.
This project had a very aggressive schedule causing Hooper to start the project before Xcel Energy had completed their civil work. We had to closely coordinate our work with the work that Xcel Energy was performing so that we were working efficiently as possible as the site was very congested.
This project needed to be constructed in phases to minimize the outage durations on the distribution system.
Hooper crews built a section of the new 230 kV substation, installed the new Bank #2 transformer, CRT, and had the fly line built over to the 13.8 kV substation.
This allowed a short outage on the existing Bank #2 transformer while energizing the CRT to maintain our second source for the distribution loads. After the new Bank #2 was placed into service, crews were able to perform the remaining demolition work on the existing 115 kV portion of the substation and finish the remaining 230 kV substation construction.
https://www.hoopercorp.com/wp-content/uploads/2016/05/DSC_0010.jpg
1080
1620
webadmin
https://www.hoopercorp.com/wp-content/uploads/2021/10/Hooper-logo-copy.png
webadmin
2016-05-04 13:47:21
2016-05-04 13:47:21
Arvada Substation